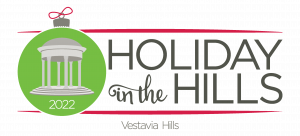 Presented by
the Vestavia Hills Chamber of Commerce & the City of Vestavia Hills
Holiday in the Hills is a series of events that take place in November and December designed to celebrate the holiday season as a community and encourage people to Shop Vestavia Hills.
We hope you and your family will join us for some holiday fun this season!
Deck the Heights
November 12, 2-7 pm
Cahaba Heights Businesses
Deck the Heights is bringing the Magic of Christmas back to Cahaba Heights, with shopping, food, drinks and fun! Plus make sure to check the Heights Holiday Pop Up Shops all around Cahaba Heights starting at 10am. Find all the details here.
All is Bright
November 17, 6 pm
Vestavia City Center, 700 Montgomery Highway
Get in the Holiday spirit with the annual tree lighting at the City Center! Bring the entire family out for a night of festive music, photos with Santa, kids' activities, and more! Find more information here.
Tree Lighting Festival
November 29, 6 pm
Vestavia Hills City Hall, 1032 Montgomery Highway
Enjoy performances by Vestavia Hills City Schools choirs and dancers, check out the merchant booths and give-aways, visit with Santa & see the lighting of the city's tree!
Breakfast with Santa
December 10, 7:30-10 am
New Vestavia Hills Civic Center Ballroom, 1090 Montgomery Highway
Bring the whole family for a pancake breakfast with Santa!
Free to attend-Breakfast courtesy of the City of Vestavia Hills.
We're excited for our first Breakfast with Santa in the ballroom of the new Vestavia Hills Civic Center, located at 1090 Montgomery Highway behind CVS Pharmacy.
Vestavia Hills Holiday Parade & Celebration
December 11, 2 pm
Liberty Park Softball Parking Lot to Alston Meadows Park
Enjoy the city's official parade! Stop by the Celebration after in Alston Meadows Park with vendors and activities! Register to be in the Parade or have a booth at the Celebration! Find the forms here.
Menorah Lighting
December 20, 6 pm
Vestavia Hills City Hall, 1032 Montgomery Highway
Enjoy refreshments and activities at the Vestavia Hills Menorah Lighting!