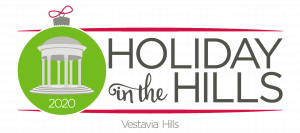 Presented by
the Vestavia Hills Chamber of Commerce & the City of Vestavia Hills
Holiday in the Hills is a series of events that take place in November and December designed to celebrate the holiday season as a community and encourage people to Shop Vestavia Hills.
We hope you and your family will join us for some holiday fun this season!
All is Bright
November 19
Vestavia City Center, 6:00 pm
700 Montgomery Highway
Join us on our green space for our first annual tree lighting! The big man himself and the Vestavia Belles will be there for photos. The Vestavia Girl Scouts will be collecting donations for the residents of Glenwood. Items needed are: puzzles, pens, markers, notepads, adult coloring books, bath sponges, cologne/perfume and fidget toys.
A Rockin' Christmas Carnival at Rocky Ridge
November 20
Rocky Ridge Business District, 6:00-9:00 pm
Let's be jolly in Rocky Ridge with a Christmas Carnival for kids and adults! Grab dinner and drinks while you Rock around the Ridge playing carnival games and collecting tickets! Find the Prize Table at the Vestavia Hills Chamber of Commerce tent and use your tickets to enter drawings for prizes from Rocky Ridge merchants!
Deck the Heights
November 21
Cahaba Heights, 2:00-8:00 pm
Come join the Cahaba Heights Merchants for the 4th Annual Deck the Heights Holiday Event! Hop aboard The Heights Express and travel to different stops to enjoy food, fun, arts, crafts, kids activities and shopping!
Tree Lighting Festival
December 1
Vestavia Hills City Hall, 6:00 pm
1032 Montgomery Highway
Enjoy entertainment, merchant give-aways, a visit with Santa and the lighting of the City's tree!
Breakfast with Santa
December 12
Vestavia Hills Civic Center, 7:30-10:00 am
1975 Merryvale Road
Bring the whole family for a pancake breakfast with Santa! Free to attend-Breakfast courtesy of the City of Vestavia Hills.
Reservation details coming soon!
Vestavia Hills Christmas Parade
December 13
Liberty Park Sports Complex to Alston Meadows
2:00-4:00 pm
Enjoy the city's official parade!
Register to be in the Parade-Click here for the form.