The rise of any town is a result of influential leaders. One of the earliest known influencers in the area was George Battey Ward, a two-term Mayor of Birmingham who built his estate on top of Shades Mountain and dubbed it "Vestavia Hills." Mr. Ward was fascinated with the classical, Greco-Roman era. So much so, in fact, that he had replicas constructed of the ancient Roman temple of Vesta and of the Temple of Sibyl. The Temple of Sibyl now serves as a historical gateway into Vestavia Hills from the north. Between 1924 and the late 1940's, many adventurous settlers moved to the region. By 1950, the area population was 607 residents and rapidly growing. In 1950, residents petitioned the Jefferson County Probate Judge to call an incorporation election to create the town whose name would recognize the influence of George Battey Ward. The incorporation election was held on October 24, 1950 and passed by a vote of 88 for and 8 against the proposition. Thus, the Town of Vestavia Hills was formally incorporated on November 8, 1950.
By late 1957, the population had grown from just over 600 residents in 1950, to a total of 2,995 residents. The town of Vestavia Hills officially became a city. From 1956 to 1966, commercial development sprang up along the Montgomery Highway corridor and annexations were made to the south of the city's boundaries. By 1970, the city of Vestavia Hills had reached a total of 8,311 residents.
The opening of the Red Mountain Expressway in 1977 and the creation of Vestavia Hills' own school system in 1970 spurred continued growth, and the population by 1980 numbered 15, 729 residents. The significant annexations of the Rocky Ridge and Altadena areas in the 1980's, Liberty Park in 1992 and Cahaba Heights in 2002 expanded both the population base, now numbering approximately 35,000 residents, and the commercial base of the City of Vestavia Hills, Alabama.
More information on our highlighted historical sites is available here.
Population – 34,018
Average Household Income – $123,718
Median Household Income – $109,543
Growth 2000-2010 39% (Annexation of Cahaba Heights occurred in 2002)
Median Property Value – $338,100
Median Age – 40 yrs.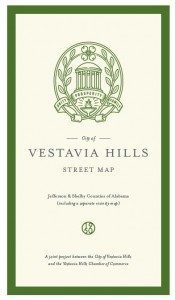 This City Map was published jointly by the Vestavia Hills Chamber of Commerce with the City of Vestavia Hills in 2015. To inquire about areas which may have been annexed to the City since that time, please contact the City Clerk's office at 205.978.0184.
Vestavia Hills Street Map 2015 (pdf includes both front and back of map)
Back of Vestavia Hills Street Map 2015 (larger view, includes street listing, brief history, letters from Mayor and Chamber of Commerce, and other information)