Virtual Monthly Luncheon - March 9, 2021
Kelly Caruso, CEO of Shipt
The Vestavia Hills Chamber of Commerce's March Monthly Luncheon will be held virtually via Zoom Webinar on March 9, 2021 at noon. (To register for this event, CLICK HERE)
---
This month we will have Kelly Caruso, CEO of Shipt, as our speaker. She will be discussing the impact COVID - 19 will have on the way we do business and changes she sees in the business community.
Kelly Caruso is a seasoned retail professional with vast experience in retail merchandising, technology, and sourcing. In March of 2019, she became the Chief Executive Officer of Shipt, a leading online same-day delivery marketplace. Under Caruso's direction, Shipt offers delivery to more than 250 markets and 80 million households nationwide. The company also has a network of more than 100,000 Shipt Shoppers.
Caruso's experience in the retail sector spans 25 years with companies such as May Merchandising, Abercrombie and Fitch, and Target. Prior to joining Shipt, Caruso was the Senior Vice President of Merchandising for Hardlines at Target. During her time at Target, she led numerous merchandising teams within Apparel, Accessories, and Home. She also led a multi-national team responsible for the global sourcing of Target's Owned Brands in Apparel, Accessories, Home and Hardlines.
Caruso is a member of the board of directors for the Network of Executive Women (NEW), and is an alumnus of the Studio E Entrepreneurial Leadership program in the Twin Cities. She received her BA from the University of North Dakota. Kelly and her family have relocated to Birmingham, Alabama.
---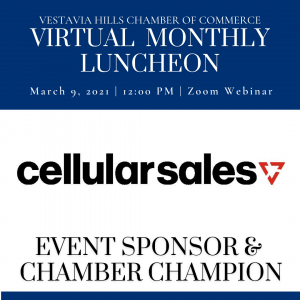 Cellular Sales
was founded in 1993 by Dane and Meg Scism. The company marketed service on behalf of Cellular One and GTE Wireless prior to the advent of Verizon Wireless in April 2000. Cellular Sales continued to grow through the late 90's and early 2000's by making its original independent sales representatives partners in new territory markets it opened.
The fourth region opened was the Alabama Market in 1998 with the original Alabama Headquarters opening in Gadsden. The company set itself apart from other cellular agents in the market by impressing a professional dress code and providing a unique buying experience by focusing on total customer satisfaction.
Nationally, Cellular Sales operates in close to 32 states with more than 600 locations. Today Cellular Sales of Alabama's main offices are here in Birmingham and consists of thirty-three locations including seven stores in Tallahassee and Panama City and South Georgia. Cellular Sales' Alabama Market employs over two hundred sales and administrative associates.
As Regional Directors, Jason Love and David Surber contribute the success of the company to a "People First" approach. The people who make the daily sacrifice to provide for their family by spending their "work life" with Cellular Sales, and the clients the company is so fortunate to serve, are together the people Cellular Sales serve first.
You can learn more about Cellular Sales of Vestavia Hills by following them on Facebook.
---
During the presentation Louis Pizitz Middle School will be given an opportunity to recognize their Partners in Education, Platinum Sponsors.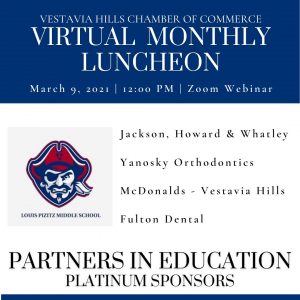 Partners in Education (PIE) encourages annual, on-going participation by businesses, organizations and others who team up with individual Vestavia Hills City Schools or on a system-wide basis to provide in-kind goods, sharing of expertise, utilizing of human and business resources or, if preferred, monetary donations. A partnership is formed between a school and a business, service organization, governmental agency or other group of individuals. Using whatever resources are available to them, the partners share ideas, enrich educational experiences and make contributions to each other.