Construction on Crosshaven Drive
Some of the information shared in this post has been sourced from an excerpt taken from the Vestavia Hills City Council Strategic Planning Work Session on February 11, 2021. (video below)
*** Crosshave CLOSURE POSTPONED until Thursday, March 18 ***
Due to the threat of severe weather through Wednesday of this week, the full closure of Crosshaven Drive has been postponed until Thursday, March 18. As previously planned, the closure will last 14 calendar days. Although the closure is being postponed, crews will be on-site and working. Please exercise caution when driving through this area.
---
It is no secret that Crosshaven Drive is a mess… but it is important to remember that in this case, "mess" signifies progress. Crosshaven is a congested area with a confined workspace, charged with the not-so-easy task of completely replacing underground utilities. The project will eventually culminate into the much larger, ultimate task of shaving down the hill on the section of Crosshaven in front of Cahaba Heights Baptist Church and the cemetery. This hefty, but necessary project will require a significant portion of Crosshaven Drive to be closed for an estimated 2-3 week duration (weather depending).
---
Here is everything we currently know about the construction on Crosshaven Drive and what we are expected to see in the coming months:
Closure will start Monday, March 15th and the road will re-open on Monday, March 29th
Traffic between Crown Ridge Dr. and Overton Road will be open to local traffic only
The approximate 2-3 week closure (weather depending) is expected to take place in mid-March (or possibly delayed until April if weather.
Shaving the hill will improve sight lines and water management, specifically storm water.
The section of Crosshaven in front of Cahaba Heights Baptist Church and the cemetery will be shut down completely, with guided alternative routes available.
The section of Crosshaven in front of Winn Dixie, The Pita Stop, The Retreat Day Spa, Blue Willow, Express Oil, etc. AND ALL BUSINESSES IN THIS AREA WILL STLL BE OPEN FOR BUSINESS however, the traffic in front of Cahaba Heights Baptist Church to Overton Road will be open to local traffic only.

ALL BUSINESSES WILL BE OPEN THROUGHOUT THE CONSTRUCTION AND WILL REMAIN OPEN FOR BUSINESS SO PLEASE BE SURE AND SUPPORT THESE BUSINESSES DURING THIS PROGRESS.

There will be digital message boards on Overton, Greenvalley & Crosshaven to inform commuters of important information daily, such as progress, detours, and delays.
Chick-fil-a will not begin construction while the road is closed. They have been in constant contact with the city, engineers, and contractors, and expect to begin construction in April, with an estimated opening in September.
The City and Chamber will also be updating and sharing relevant information accordingly.
---
CROSSHAVEN DRIVE DETOUR MAP: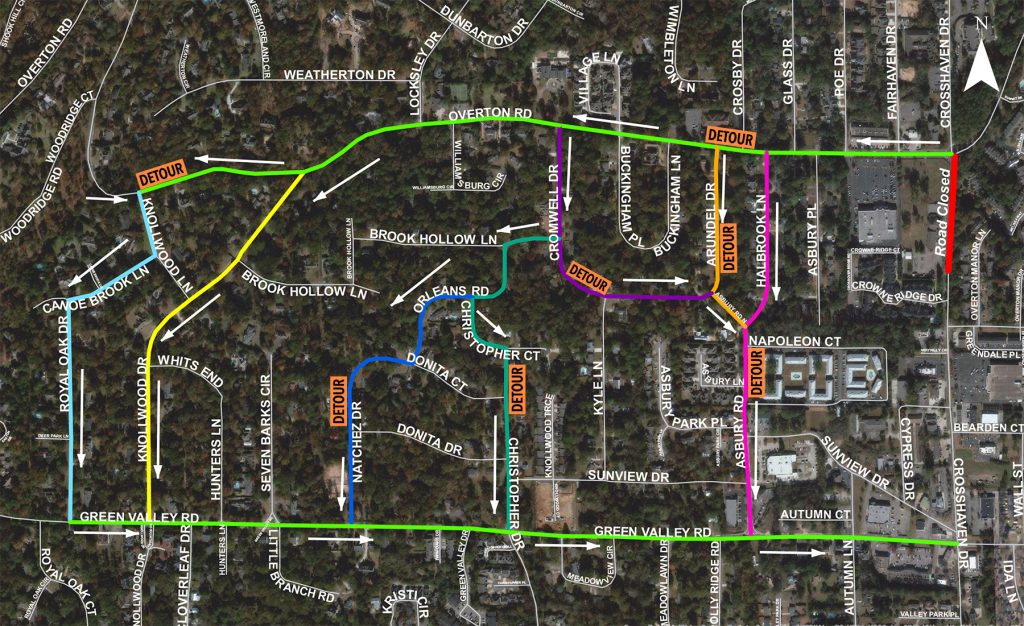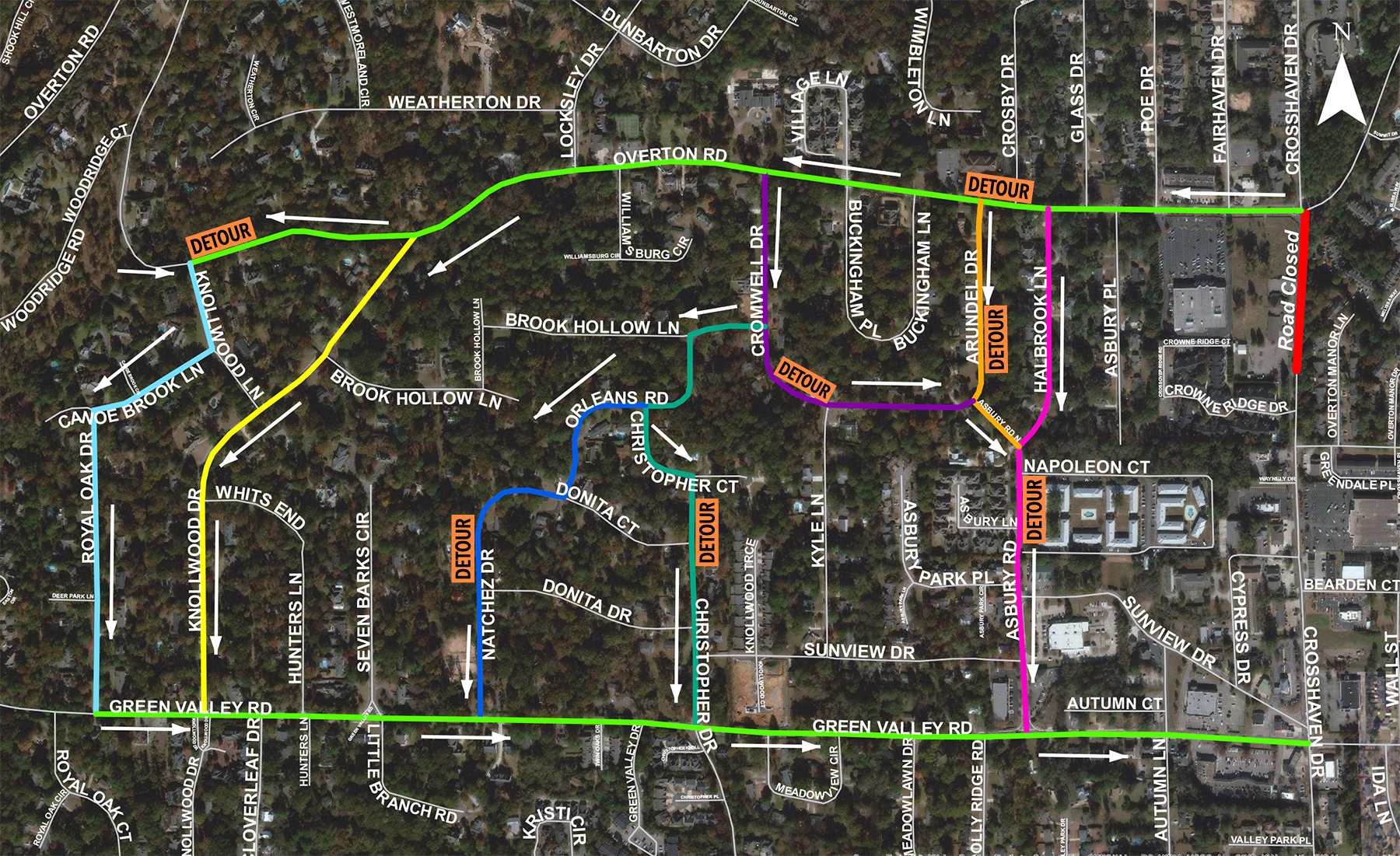 ---
For a complete overview of the bullet points listed, please see the video below. If you have any further questions regarding the construction on Crosshaven Drive, you can contact the City of Vestavia Hills at 205-978-0100, or visit their website for additional contacts at www.vhal.org.
---
If you would like to watch the FULL Vestavia Hills City Council Strategic Planning Session 2 from 2/11/2021, CLICK HERE.